Starting in the 13th century, the city of Cusco, in modern-day Perú, was the capital of the Inca Empire. Although Spanish conquistadors erased much of the Inca influence on Cusco when they arrived in 1533, the city nonetheless remains an important regional hub, most notably for foreign tourists who want to visit Machu Picchu, the fabled "Lost City of the Incas."
Whether you trek the iconic "Inca Trail" to the lost city, or use Cusco as a base for exploring other attractions in the region, Cusco is an absolutely must-visit if you plan to spend any time in Perú – if only for the ceviche on offer at its central market!
Cusco and Machu Picchu
Cusco's main claim to fame is that it sits in close proximity to Machu Picchu, the so-called "Lost City" of the Incas which was actually built more recently than Cusco itself. One of the most popular sights in all of South America, Machu Picchu attracts hundreds of thousands of tourists per year.
When I visited Cusco in March 2011, I traveled to Machu Picchu independently, using a combination of buses, taxis and hiking on foot. This option is the most affordable option for visiting Machu Picchu, but it's definitely not the most popular one.
The Inca Trail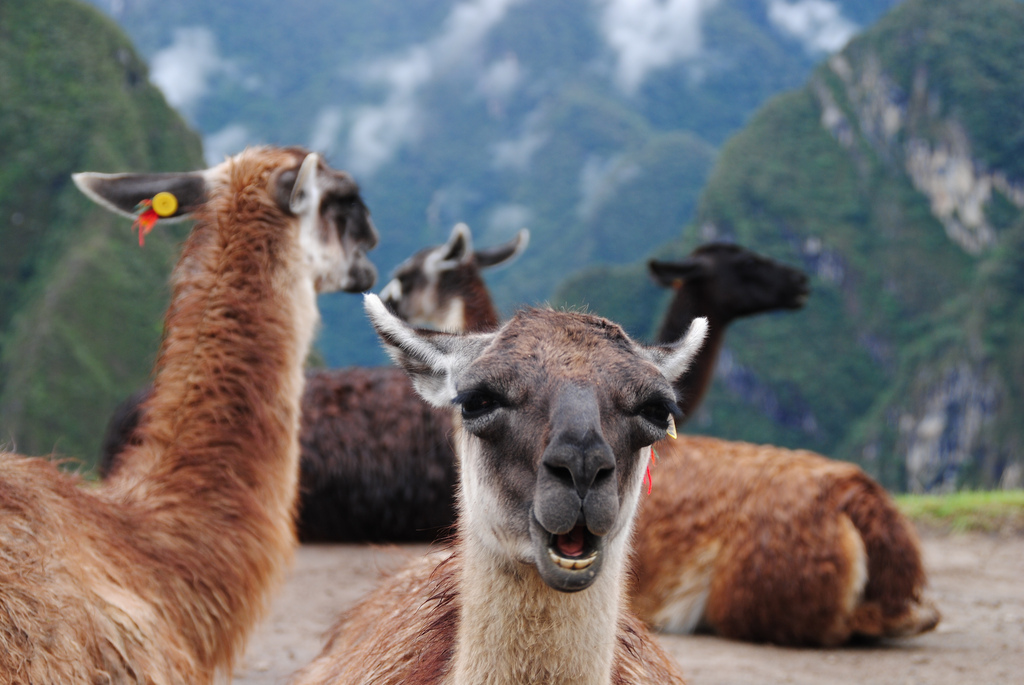 Take time to greet some of Machu Picchu's permanent residents
Nor the most sought-after. That honor goes, indisputably, to the Inca Trail, a network of trails which travels as high as 13,000 feet above sea level as they wind through the Andes en route to Machu Picchu. Extremely scenic, the Inca Trail takes between 4-5 days to complete, and is not for the faint-of-heart – many a traveler succumb to altitude sickness.
Due to concerns over damage or even destruction to the trail, the Peruvian government has limited the number of people who can access the trail each day, which causes it to book up quickly. If you are interested in trekking the Inca trail, you should book as far in advance as possible.
The Sacred Valley of the Incas
The Sacred Valley isn't called that for no reason
Another Cusco-area attraction you'd be crazy to miss is the aptly-named Sacred Valley of the Incas. Located around an hour from Cusco's Santiago station by bus, the Sacred Valley is home to its own set of Inca Ruins, and an idyllic, unspoiled landscape that is, well, sacred.
The most popular attraction of the Sacred Valley is, without a doubt, the Moray Inca Ruins, which can best be described as a descending ring of concentric circles built into the ground. Its origins are unknown – I assumed, upon walking down into it, that it was some sort of amphitheater – but it's an absolute marvel to behold.
If you've got a whole day to devote to the Sacred Valley (and, for your sake, I hope you do) I recommend taking a bus to the town of Maras, and making the 8-mile trek through the valley to Moray. It's more than worth it!
Exploring Cusco City
Much of today's Cusco is achingly modern, but it's still a great place to base yourself
After all this talk about lost cities and sacred valleys, you're probably wondering what exactly there is to do in Cusco. The short answer is a lot, even though as I mentioned earlier, much of the actual Inca influence in the city has been erased.
My favorite thing to do in Cusco is simply to walk through its urban hills, which provide awesome views of the cityscape and surrounding mountains. If you're looking to buy or eat something, head down through Cusco's central Plaza de Armas, or to the central market, where you can enjoy some ceviche.
A word of advice, however: Take it easy! Like Machu Picchu itself, Cusco sits at a high enough elevation that it's very easy to succumb to altitude sickness